*Revision note 2017: Viscount West is now Sunny's Pools & More*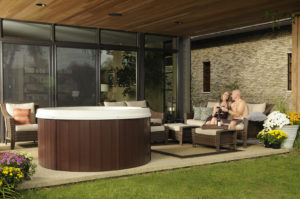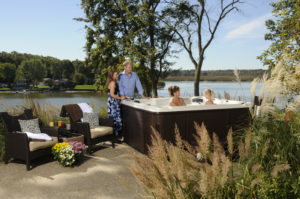 Viking strives to provide the highest quality spas at the most affordable price. Their spas are one of the most energy efficient in drawing the least amount of electricity, while still maintaining optimal water jet pressure. Also, it is their commitment to provide the best value that has earned Viking Spa an impeccable reputation within the spa industry and gained us affiliations with some of the largest retailers in the World. Feel free to check out their products and experience first-hand Viking's value.
Why Choose A Viking Spa?
When you look for a spa, one of the first things to consider is quality. Viking Spas was awarded the Presidential E Award for Exporting Excellence, the first ever in the spa industry. Also, Viking only uses parts made in the United States. Furthermore, Viking has been in business for over 25 years and voted a "Best Buy" by Consumer Reports on a number of occasions. Along with the top quality, Viking stands by their work with a Lifetime Warranty on the spa shell. As well as 6-year parts and labor warranty.
At Viscount Pools West, we can help you determine which spa is right for you. Viking has a variety of models to choose from such as:
The Viking Series
Aurora Series
Royale Series
Regal Series
Legacy & Legend Series
Heritage & Tradition Series
Visit one of your local Viscount Pools West locations today to find out which spa is best for you!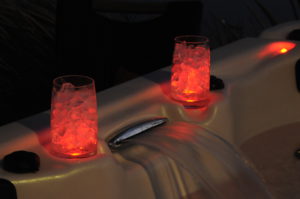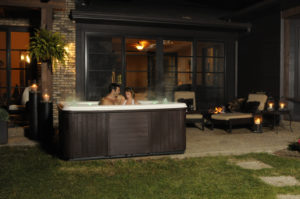 *Revision note 2017: Viscount West is now Sunny's Pools & More*
Dimension One Spas (D1) is the leading manufacturer of award-winning hot tubs and swim spas and home to the world's first curvilinear spa. D1 Spas is based in Carlsbad, CA and sold through a network of retailers in the United States and worldwide. With over 35 years of experience, the company's four product lines and patented features offer a higher class of design, performance, and value that meet a variety of consumer needs. In 2007, D1 was awarded the Silver Medal Shingo Prize, becoming the world's first and only hot tub manufacturer to receive the distinguished award. D1's hot tubs have also achieved the Spasearch Buyer Guide's highest "Recommended" rating.
Dimension One Spas, founded in 1977, has grown to become one of the world's leading manufacturers of hot tubs and swim spas.
At Viscount Pools West, we can help you find the hot tub that best suits you and your family. Also, we carry a variety of Dimension One spas to choose from. Models such as:
The Bay Collections
Reflections Collection
@Home Collection
AquaFIT Systems
Furthermore, a Dimension Spa is one fo the highest quality hot tubs in the industry. Dimension has been awarded numerous awards in the innovation field of hot tubs. Also, Dimension stands behind their products with Lifetime Warranties on the shell. In addition to the hot tub you always wanted, Viscount Pools West can help you find the covers and chemicals you need to help maintain your spa for years to come.
Contact Viscount Pools West today for the spa of your dreams!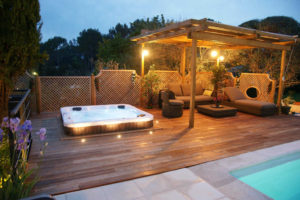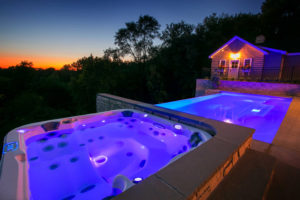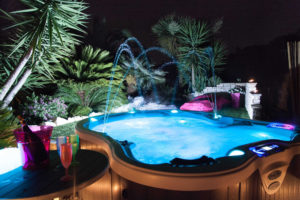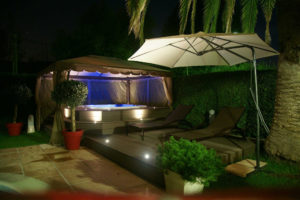 *Revision note 2017: Viscount West is now Sunny's Pools & More*

Throughout Michigan, the fall and winter can be a little rough on your hot tub, especially if you have an outdoor one. To help prolong the life of your hot tub, you should install a thermal hard cover and a lifter. The cover helps prevent heat loss throughout the year and more importantly keeps unwanted debris from getting in your hot tub. Also, at Viscount Pools West we offer a wide variety of hardcovers to choose from.
Thermal Gaurd Deluxe Hot Tub Hard Covers
The Thermal Gaurd Deluxe is one of our most popular brand of hot tub covers. Furthermore, the marine grade vinyl is durable and tough material that can last under the most extreme conditions. The core of the cover is a foam that is wrapped in a tight vapor barrier. By doing this, it allows the foam core to stay dry, thus keeping the cold out and keeping the spa warm. The Thermal Gaurd Deluxe is built with durable aluminum reinforced hinges, so they can last for years to come.
The Thermal Gaurd Deluxe is available in a multiple of color choices. To learn more about our hot tub covers, contact one of our hot tub specialists today. Our specialists can help you find the right hard cover for your hot tub that best fits for your budget.
Hot Tub Lifters
If you own a thermal hard cover, it is highly recommended that you use a lifter as well. A large good quality hot tub cover can be a pain to move every time you want in your hot tub.  That is where a lifter comes into play. A lifter is usually composed of metal bars that will mount to each side of your hot tub. Some even mount to the floor of your deck. With a lifter, the job of removing your cover becomes a simple one person job. Ask us today about what type of lifter is best for your hot tub!