*Revision note 2017: Viscount West is now Sunny's Pools & More*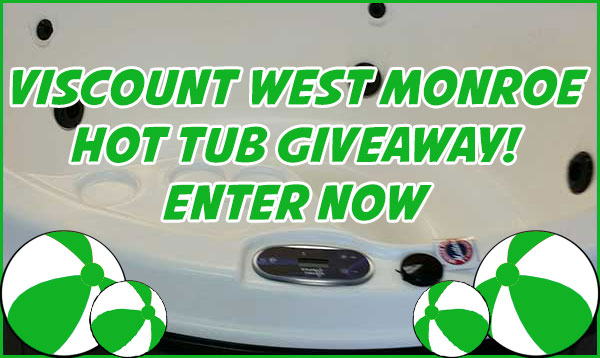 CONTEST HAS EXPIRED
At Viscount West, we are always running great contests and deals for you t o win great prizes.
There is still time. The Monroe County Fair runs until August 6th which gives you time to stop by and visit the Viscount West booth for your chance to win a free hot tub! That is right, we are giving away a free hot tub to one lucky winner. To enter is really simple, you have to be a Michigan resident and provide a name, email, phone and address. A winner will be drawn at random so hurry and enter today!
Contests and Deals – Pool Breeze

Pool Breeze is a great cleaning solution for your pool water. Pool Breeze filter cleaner polishes the water by collecting the tiny particles that cause cloudiness into larger particles the filter can remove, leaving the water crystal clear!  For a limited time, Viscount West is offering a bottle of Pool Breeze for free.
Click here and print out the page and bring it in to any Viscount West location. Pool Breeze is made by Lonza, one of the industry leading specialty chemical manufacturer and supplier in the world. Not only does Lonza produce Pool Breeze but they also offer Poolife brand pool chemicals.
The poolife brand has a complete line of Algaecides, Balancers, Maintenance Products, Sanitizers, Shock and Oxidizers as well as Pool Care Systems. At Viscount West we carry a full line of pool and hot tub chemicals to help you maintain your water.
Along with poolife, we also carry Spa Marvel. Spa Marvel  is one of the industry leading water treatment  and conditioners on the market today. Spa Marvel's products are environmentally-friendly enzyme based spa-water treatment product that can help drastically reduce the need for many other chemicals in your spa water.
Viscount West offers a wide variety of pool or spa chemicals for you to help maintain your water. Give us a call today or visit one of our great locations for more information on products helpful for your pool or spa!
Posted In: Contest, Giveaways, Great Offers
Tags: contest, give away, hot tub, Monroe County Fair