It is turning out to be a wonderful summer! Perfectly warm weather and plenty of time to lounge by or play in the pool. But is your pool safe from bacteria and other harmful elements? Get some more chlorine and chemicals to keep your family safe during the summer!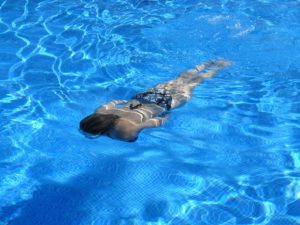 One of the most frequently asked questions about chlorine is which is better; liquid or powder chlorine? There are advantages and disadvantages to each system so it's more of a personal preference. Liquid chlorine is generally the easiest to use because you just pour it into the pool. It is efficient and cheap compared to other pool cleaning methods.
However, for smaller pools, liquid chlorine may damage the lining from the pure strength of it. Powder chlorine is the most popular type used by owners in personal pools. It is an easy way to use sanitizer for your pool. However, it is often more expensive than liquid chlorine.
Why are chlorine and chemicals important?
Chlorine is the chemical that kills bacteria and algae in a pool to make the water cleaner and safer for the swimmers. Without chlorine, deadly pathogens can be contracted through contaminated water. Pathogens such as E. coli, salmonella, and Crypto are waterborne and can become fatal. Luckily, outbreaks are rare because of the use of chlorine and careful watch on the water's pH content and alkalinity.
Are you looking for a better way to sanitize your above ground pool? Here at Sunny's Pools & More we offer the best brands of chlorine and chemicals at the best prices. We carry brands such as Baquacil, Pool Marvel, SeaKlear, and many more! Our sales associates can help you decide which brand is best for you and your pool!
Are you interested in chlorine and other chemicals from Sunny's Pools&More? Come on into one of our locations! We have stores in Flat Rock, Livonia, Macomb, Monroe, and Waterford. Or contact us by form or phone call. We can't wait to meet you!
The weather is finally warming up here in Macomb Michigan and you've got summer pool time on the brain. Getting ready to open your pool for the summer defines the change in season for pool owners. Most people in Livonia and Westland want to have their pool open for Memorial Day, but others may open theirs sooner, or even a little later. Regardless of when you decide to open your pool for your family to enjoy, there are still proper ways of going about it. But do you know all the necessary steps to summerize your pool? You may be asking yourself "How do I open my pool for Summer?". Whether you're a  new pool owner or someone who would just like some refreshing, Viscount West is here to help!
How to Open Your Pool for Summer
Properly cleaning your pool allows for a clean and safe swimming environment for you and your family. We have broken down for you, how to open your pool this spring.
Uncovering the pool

– You may have noticed that over the winter your pool cover has accumulated debris water from melting snow or rain. First, clean off any debris that may be on the top of your pool cover then we recommend checking for any holes or damage to your cover. If you have a hole in your cover don't drain your pool. You can either use a submersible pump or, if you have an above ground pool, use a siphon to get as much water off of the cover as possible. After all water is drained, you can remove the pool cover. Be sure to clean and dry it before you store it so mold does not accumulate.

Fill up your pool

– when you winterized your pool; you should have drained some water from it. Using a hose, bring the water levels back up to their normal level. You will want to make sure to remove winterizing equipment or plugs and reconnect your pool equipment. If you used antifreeze to protect the plumbing you will want to make sure you drain it. Turn on your filtration system.

Cleaning and balancing your pool

– You may notice some ugly stains have built up on your pool liner. Add Metal Free to the water and allow 2 hours of circulation. After several hours, check the chemical levels of your pool. If you need to get your water tested come to your local Viscount. We are currently running a special on our water tests. The levels should be at
pH – 7.4 to 7.6
Alkalinity – 80 to 120 ppm
Chlorine – 2.0 to 4.0 ppm
If you need help balancing your pool's levels, let us help. We'll make sure to give you the best pool chemicals you'll need for de-winterizing your pool. Our team of experts can point you in the right direction!
Brush and vacuum your pool

– Once you have added and allowed the chemicals to activate, you will want to vacuum and brush the algae that has accumulated. You will want to pay close attention to the details to ensure that you are getting your pool as clean as possible.

Shock your pool

– After allowing the filtration system to work overnight; you will want to shock your pool to remove the remaining bacteria.
If at any point you would like to make sure you water is at its proper levels, bring a water sample into your nearest Sunny's Pools & More location. We will assist you in finding pool chemicals that you need to ensure your water is safe and ready to be enjoyed! We have been serving the Macomb, Livonia, Flatrock, and Monroe long enough to know the best way to service your pool needs. For all your pool and spa needs, choose Sunny's Pools!
*Revision note 2017: Viscount West is now Sunny's Pools & More*
Winterizing Your Pool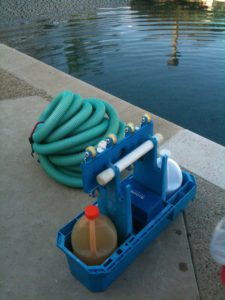 For many pool owners, Labor Day (or soon after) is when they will close, or winterize their pools. Understanding the proper steps to take, what winterizing chemicals to use, as well as understanding the pH and alkalinity levels are very important. Properly closing your pool will reduce the chances of corrosion or scale buildup. There are pool winterizing kits, winter pool covers, and steps and procedures to ensure your pool is ready for it's winter sleep.
Closing your pool Properly closing your pool can eliminate costly repairs when you reopen it during the springtime. Ensuring that you close your pool as soon as the weather cools down is important, as it will prevent freeze damage and allow you to properly shut your pool down. Be sure to check for special instructions when closing your in ground or above ground pool.
First Things First 
Test your water. You need to make sure that your pool is going to go into hibernation mode with a clean slate (so to speak). Before you do any thing to winterize your pool make sure your chemical levels are in the correct ranges. If you need your pool water tested, make sure to stop in at your nearest Viscount for our computerized water testing.
Pool Winterization Kits- With Winterizing Chemicals
The best way to make sure you get all the pool chemicals you need is by getting a pool winterization kit. You'll get all the chemicals you'll need to make sure your pool's chemical composition will survive the winter and be ready for Spring when you open it. We here at Viscount West have made our own pool chemical winterization kits for your convenience!
We offer our winterization kits in two sizes 10-k and 20-k for 10,000 and 20,000 gallon pools. These kits include:
Algaecide
Alkaline
Chlorine
We also recommend utilizing a turbo shock if needed, which is why it's important to get your water tested before beginning this process (see water testing above).
Winter Pool Covers 
Winter pool covers give you an extra layer of protection you'll need to get your pool through the harsh Michigan winters. These covers are used on above ground and below ground pools alike. Winter pool covers keep debris that can change your chemical composition over the winter out of your pool. We recommend not skimping on your next pool cover. This purchase (while very important) reflects the saying "You get what you pay for". If you get a "cheap" cover, you'll be looking at potentially having to purchase a new one every other year (if you're lucky).
We'll soon be stocking the ultimate winter pool cover brand Armorkote. These guys are made tuff for above ground and below ground pools and with a ten year warranty, you know you're in good hands.
Right now at Viscount West we are offering 50% off ALL of our pool covers. So if you need a new summer pool cover or a new Winter pool cover now is the time!
Viscount Pool's has everything you will need to properly close your pool for the winter. If you have any questions regarding proper pH, alkalinity, or calcium hardness for your pool, be sure to ask one of our professional staff members. Also, be sure to check our great offers for limited time deals on pool closing accessories or chemicals.
*Revision note 2017: Viscount West is now Sunny's Pools & More*
Having your swimming pool water tested is essential because it helps keep your pool sanitary. Not cleaning your pool can create all types of bacteria that you do
not need. What better way to start off the summer right than to have a clean pool to swim and relax in?
Here at Viscount Pools West, we offer hot tub water testing and pool water testing to our customers at all of our locations including Livonia, Macomb, Monroe, Flat Rock, and Waterford! To get the best results, we recommend for our customers to come in with a fresh sample of pool or hot tub water that has been no more than 30 minutes old. We also advise that the pool water sample is about 18 inches deep, away from any debris surrounding it. Once you arrive with
your swimming pool water sample, that's when we get to work. We then test your pool water with our LaMotte WaterLink Spin system, in which tests your water levels for proper water chemistry.
Hot Tub Water Testing At All Locations
If you are interested in getting your pool water tested, fill out one of our water testing forms today!
Don't forget to fill out:
The size of the pool
Temperature of the water
Pool type
Volume of the pool
This criterion is very important when filling out the water testing form and will aid in a more accurate test reading. The process is very easy and takes very little time to do so!
So contact us for a water testing for your hot tub or swimming pool now. Make sure to ask questions if you are looking for specific chemicals and sign up for our email list for product and chemical specials we have all summer long! Viscount Pools West value our customers and are always ready to give assistance!
*Revision note 2017: Viscount West is now Sunny's Pools & More*
THIS PROMOTION HAS EXPIRED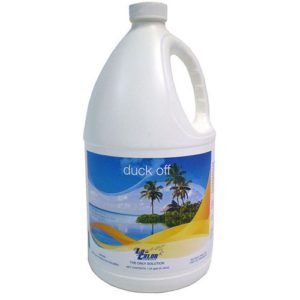 Viscount Monroe no longer has Billiards, refer to Waterford as clearance center for Tables.
Do you want the ducks off this summer? Birds in the pool can be harmful for them and humans. The poop that they leave in the pool contaminates the water. Also, drinking too much chlorine water can make birds sick. However, there is an easy fix.
Duck Off Non-harmful Pool Chemicals For Humans or Animals
At Viscount Pools West, we have a solution for you to protect your family and the birds. Duck Off is a additive that reduces the surface tension of your swimming pool to make it uncomfortable for the birds to swim. The beauty of this product is that the birds are not harmed by this. This pool chemical is also not harmful to humans.
All of our locations are open this summer to provide you with all of your pool or hot tub supplies that you need. Come visit us this summer at:
Flat Rock
28310 Telegraph Rd,
Flat Rock, MI 48134
Livonia
30441 Plymouth Road,
Livonia, MI 48150
Macomb
51020 Hayes,
Macomb, MI 48042
Monroe
2600 North Monroe Street,
Monroe, MI 48162
Waterford
4130 Dixie Highway,
Waterford, MI 48329