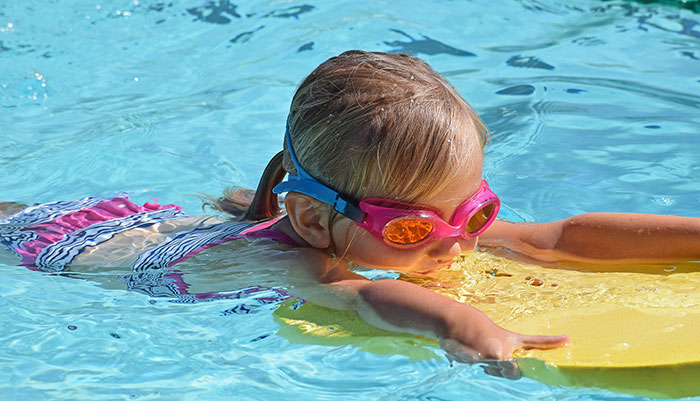 When you purchase your new swimming pool from Sunny's Pools & More, there are some swimming pool safety tips you should consider for your whole family. Enjoying your new pool with the family is a great way to spend your summer days. To keep everyone safe, here is a list of tips that help you enjoy your pool safely.
Swimming Pool Safety Tips Fencing
No matter if you have an above-ground or semi-inground pool, you should always consider a fence. You cannot monitor your pool 24/7, with a protective locked fence, you can keep kids out when not supervised. In addition, some cities require a fence at a certain height as well. For above ground make sure to have a lockable ladder or steps as well. Also, you may consider an alarm system for added protection.
First Aid and Chemical Safety
Having a first aid near the pool area is always a good idea. For deeper pools, a life ring or a life hook should be close by as well. A life hook can be used to pull someone to safety quickly and is always recommended. Make sure to inspect your first aid kit, life ring, and life hook each season to assure they are in proper condition. Pool chemicals are a necessity to keep your pool water clean and safe.
When it comes to chemicals make sure to store them properly. Younger kids may get into the chemicals harming themselves. Also, make sure to wear protective wear when handling chemicals. Finally, store your chemicals in a well ventilated and secure area out of reach of small children (pets too!).
Drain Covers, CPR and Rules
One thing people do not think of are drain covers. Small young children have been hurt from the suction of drains so make sure to properly cover the drain or filter. Owners of private swimming pools should have at least one person who knows CPR.  Hopefully, you will not have to use it, but having someone who knows it is always a good idea. Setting some base rules for everyone is another great safety step. Rules such as no running on a wet deck, or no swimming without an adult. Setting rules will help keep everyone safe.
These are just a few tips of having a safe pool this summer. Of course, if you are looking for a new pool, visit your local Sunny's Pools & More for everything you need to build the pool of your dreams!

Thinking about buying a pool in the dead of winter might be a little crazy. But if you visit a local Sunny's Pools & More, you can save greatly on a swimming pool. Right now Sunny's Pools & More are offering deep discounts on all swimming pools. In addition to deep discounts, now offering great 60-month financing as well, now is the time!
Buy Now, Take Now, Save Now!
Have you always wanted a pool for the family to enjoy all summer? What is holding you back? With this deal, you buy and finance the pool you always wanted for cheaper than you imagined.  Tax season is here, and if you are expecting a big tax return, you can buy your pool now, get the financing and pay it off when you get your tax return! In addition, you can also get all the items you need including ladders and chemicals.

Buying A Pool Now!
Buying a pool is a big decision, but the fun times you will have is more than worth it. At Sunny's Pools & More, we carry a variety of swimming pools to choose from. We carry above ground pools from Buster Crabbe and Premier Aluminum. One of our popular models of above ground pools is the Admiral's Walk. This pool has a huge carpeted deck and also a pre-assembled fence. In addition to above ground pools, we carry semi-inground pools as well.
Semi-inground pools are a beautiful choice as well. We carry brands such as Premier Aluminum, Cornelius Pools, Aquasport Pools, and Lomart. Of course, if you are a first-time pool buyer you will have questions. At Sunny's Pools & More, our experts can answer any question you might have and suggest exactly what you need to get your pool up and running. Finally, if you ever wanted to be a swimming pool owner now is the time to act! With great savings and good financing, we can get you the pool of your dreams!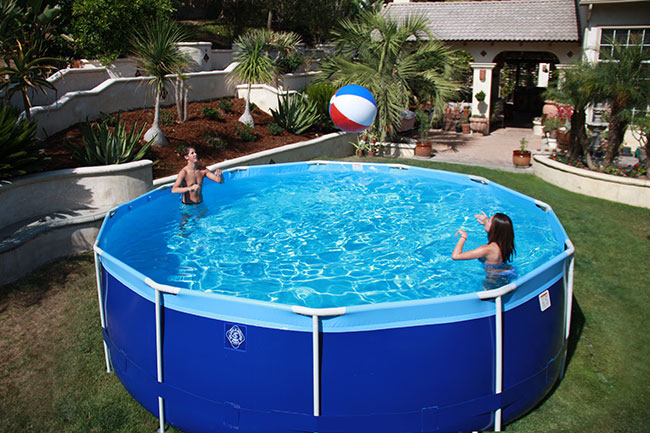 Are you looking for a great starter pool for you and your family? Here at Sunny's Pools & More, we have the perfect product for you at a perfect price. For a limited time only, Quik Swim Pools, by Splash-A-Round Pools, are included in a package deal!
Package Deals On Quik Swim Pools
We want to make buying a pool as easy as possible for you. So, with your Quik pool purchase, we will include a Hayward Water Filter, pool ladder, and water skimmer.
Furthermore, we provide you with the best prices imaginable. The Quik Swim 16 ft round and 48-inch tall round swimming pool with a Hayward filter, pool ladder, and skimmer is only $499.00.
The Quik Swim 10 ft by 18 ft wide and 48-inch tall rectangular swimming pool with a Hayward filter, ladder, and pool skimmer is only $599.00.
Why is the Quik Swim Pool good as a Starter Pool?
There are many benefits to owning a Quik Swim Pool. The little effort required makes the Quik Swim Pool the best for anyone's first pool. You will not have to worry about its upkeep with daily chemicals and maintenance because the over-sized pumps and filters create amazing water circulation that requires less work.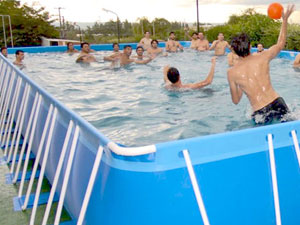 In addition, the frame requires no tools as it can be snapped together with minimal effort in less than an hour. The frame has a heavy-duty 2″ top rail and a gray-baked enamel coated galvanized steel framework. This means that the frame is sturdy but also easily maneuverable and easy to construct or take apart for later use. The liner is made of a strong 35 mil. reinforced poly-fabric 3-ply material. You will not have any tears or holes! Also, if you face any issues, there is a 10-year limited warranty on the Quik Swim Pool's frame and liner.
So, come on into our Flat Rock store today to view our demonstrations of both pools. This pool is definitely the best to start off with and to stay cool for the rest of the summer. If you have any questions about the Quik Swim Pools, feel free to contact any of our other locations.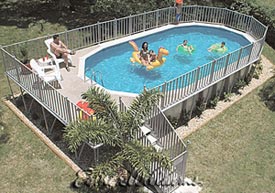 *Revision note 2017: Viscount West is now Sunny's Pools & More*
The beginning of summer and father's day is right around the corner. Why not celebrate with a new pool! At Viscount Pools West we offer a wide variety of swimming pools to choose from. Swimming pools like above ground and semi above ground.
Already have a pool? We also offer chemicals and pools supplies as well, so visit your local Viscount Pools location today!