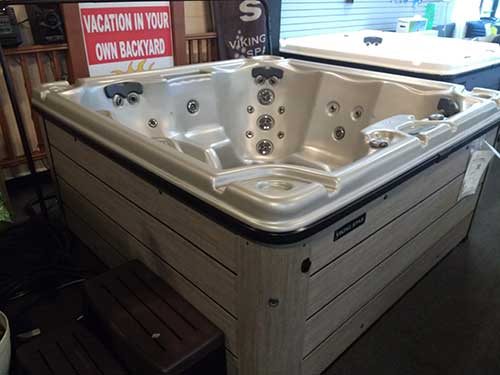 Sunny's Pools & More is your local Wayne county hot tub retailer. Did you know that adding a pool or hot tub could increase the value of your home? Hot tubs are good to own all year round. Owning a hot tub in Michigan is very relaxing both individually or as a fun group activity. We offer a range of hot tubs at all price points from Viking Spas or Dimension One Spas Michigan.
One of our hot tub retailers in Wayne County's most popular vendors is Viking Spas. We have an overstock of Viking Spa items in Flat Rock or surrounding areas. We love Viking Spa hot tubs in the county because they are of high quality or dependable. Viking Spas along with Dimension One Spas lead the hot tub industry in creating innovative products.
Sunny's Pools & More a Wayne County Staple
Sunny's Pools & More a hot tub retailer in Wayne county also carries high-quality products from another vendor,  Dimension One Spas. They offer high-quality American made luxury spas. They have a hot tub for you no matter what your budget is. People love Dimension One Spas in Wayne county because they have the option to create a custom made to order hot tub in Michigan. Dimension One Spa is a customer-centered company and Sunny's Pools & More shares this model. Dimension One Spa focuses on quality over quantity when it comes to the type of product they produce to achieve optimal design, comfort, or durability.
We provide hot tubs or hot tub accessories to Wayne county residents of Livonia, Detroit, Westland, or any other city in the county.
Sunny's Pools & More also carries pool supplies, pool tables, or game room supplies. We have 4 stores to best serve you. Finally, contact us for more information about hot tub retailers in Wayne county or hot tub accessories Wayne county, or visit our special's page.
For more information click below.
Hot Tub Retailer in Flat Rock, Michigan
Waterford, MI – Hot Tub Retailer
Hot Tub Retailer in Macomb, Michigan