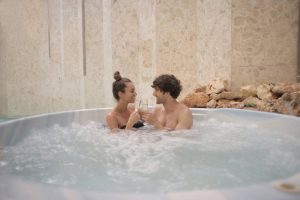 A lot has happened so far this year. The COVID-19 outbreak and resulting quarantine, violence in the news, and the upcoming presidential election, this year has been the most stressful in decades. This is why now is the best time to invest in a hot tub. With all of the stress so far this year, a relaxing dip in your very own hot tub is exactly what you and your family need!
Why should you get a new hot tub from Sunny's Pools and More? 
Hot tubs are known to calm nerves and alleviate stress. The warm water and soothing pressure from the jets allow your mind to naturally free itself from its regular day-to-day worries. Also, the jets help your musculoskeletal system by allowing your muscles to relax. Furthermore, the hot water relieves pain and soreness from both your muscles and joints.
Here at Sunny's, we carry two of the best hot tub brands: Viking and Dimension One. Viking Hot Tubs are one of our best sellers and has been in the hot tub business for over 25 years. They are most well known for selling the best hot tubs at affordable prices. Viking spas offer some of the most advanced features in the spa industry.  All of  their hot tubs include LED lighting, stainless steel jets, stereos, and more.
Dimension One Hot Tubs are very popular in the hot tub and spa industry. Their spas are sculpted to perfection and have been for over 40 years. They have many models that you can choose from, each with their own special features. By using the most durable materials, any Dimension One tub can give you the features that you desire!
Hot Tub Necessary Accessories
Along with our large selection of hot tubs, we also offer a wide variety of chemicals and accessories to maintain your new hot tub. Our accessories range from chemicals to covers to Durasteps. These accessories can help enhance your enjoyment of your hot tub.
Furthermore, we offer water testing and testing strips! Getting your hot tub's water tested is essential to make sure that your pH and chemical levels are safe and balanced. We have great deals and large hot tub displays that you can view at our Macomb location. So, what are you waiting for? Contact us today and get the hot tub of your dreams!
Posted In: Dimension One Spas, Great Offers, Hot Tub